We are excited to now offer free email marketing to our restaurant partners! From your Menufy Manager, you can easily design and schedule out up to two email blasts a month for customers that have opted-in to receive email promotions from your restaurant. Promote your Coupons, Quick Deals, Tasty Rewards, or any specials or announcements you would like to share with your customers.
If you plan on promoting a Coupon or Quick Deal, make sure to add the offers first and then work on your email campaign. This also applies to any menu specials or special items that you want to promote. If the menu special or item is not listed on your Menufy ordering site, please email menu@menufy.com so they can add it for you or, if you use Menufy through your Clover POS, make sure you add it to your menu first.
***Would you like to know how many email addresses your restaurant has collected with Menufy? Click this link to view our guide on how to check this information.
Step By Step Guide: 
In the Menufy Manager, open the "Discounts & Deals" tab on the right-side navigation bar 

Choose "Email Campaigns"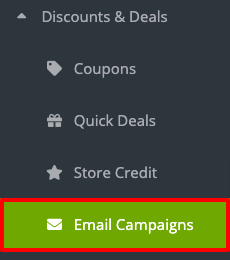 Click "Create New Campaign"

You should see all available Coupons and Quick Deals. Select the offer you want to promote.

Once you select a promotion the email campaign can be edited and scheduled:

 
Add Email Subject (what customers see in their inbox)
Add more to your message if you want in the Email Message section
Choose a Call To Action:

ORDER NOW
START YOUR ORDER
VIEW MENU
REDEEM OFFER
ORDER AHEAD

Schedule Date & Time
Email Image - Upload your own graphic or search for an image (Photo database powered by Unsplash)
If you are

promoting a custom announcement or information about a special you are running, click Generic Announcement.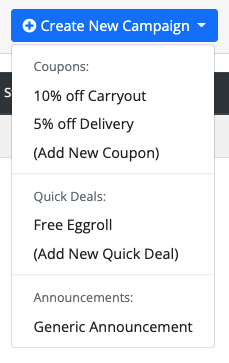 Once you select Generic Announcement the email campaign can be edited/scheduled:
Review the Preview of the email once everything needed for the email is filled out and you have scheduled the email for the date/time you desire:

Click "Schedule Email Campaign" 

If you need to edit the email after it's scheduled, you can.

Click on the scheduled email to edit
Other notable details:
A timer will appear when editing when there is 10 minutes or less 

Email campaigns can also be created from the Coupons and Quick Deals pages once the offer is added.

If you need to delete the email for any reason, you can. Locate the Actions column and click the trash icon. Once the email has been sent, this action will no longer be available.





Once the email has been sent out to your customers, you will see the performance results. Please note that campaign statistics may be delayed by one day.




***Do you have an external email list that you'd like to add to your current pool of Menufy customer data? Please email info@menufy.com with the list and we will add it to your account. We ask that the email list be sent to us as a CSV file and that the emails were obtained lawfully and in accordance with FCC Customer privacy and protection guidelines.
If you have any questions about this new feature, please schedule an appointment with a Menufy client marketing specialist, email us at performance@menufy.com, or call us at (913) 305-5552.